Looks like a spider. Moves like a spider.
Aesthetically and behaviorally realistic, the T8X is the only robot in the market that combines so much resemblance to a real spider with fine movements, programmability, and customizability. With 26 servo motors packed inside the robot and powered by the proprietary Bigfoot™ Robotics Engine, which contains advanced robotics algorithms for controlling multi-legged walking robots, there are endless possibilities for the types of bio-inspired, realistic movements that the robot can make.
Incredibly easy for anyone to play with advanced robotics.

By providing simple commands to the robot on your own smartphone, tablet or computer (for example, instructing it to walk forward), the Bigfoot™ Robotics Engine will automatically take care of all the complex mathematical computations in the background, including inverse-kinematics calculations, leg trajectory planning, leg gait coordination, motor control, etc.
So, whether you're new to robotics and just want to have fun scaring others, or are an expert and want to use it for robotics research, the T8X is an easy and user-friendly way to play or work with some of the coolest and most advanced robotic technologies that exist in the modern world.
Wi-Fi enabled, allowing you to do more, in a better and more convenient way.
The benefits of a touch-based Wi-Fi enabled controller by far outshines that of a physical joystick controller.
The built-in T8X Controller App brings out the best of the Wi-Fi technology because:
Note: a separate Robugtix Controller is not needed for this product. This product connects with your Wi-Fi enabled smartphone, tablet, or computer via a built-in WebApp.
Fixed shipping cost worldwide via Hong Kong Post. This item is upgradable to FedEx International Economy or FedEx International Priority upon request (additional fees apply).
Two options for the outer shell appearance are available (selectable from the drop-down list above):
1. Black plastic shell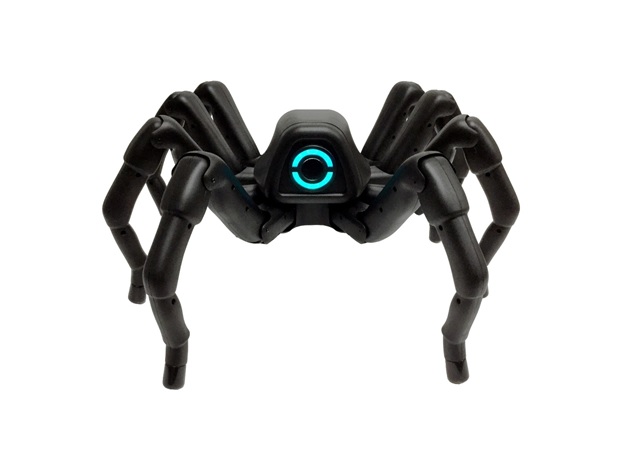 2. Hairy skin version (Limited Edition)
Programming Tutorials
We're updating the tools to make programming easier and more comprehensive. More tutorials to come after the update!
Documentation
We're updating the tools to make programming easier and more comprehensive. More documentation to come after the update!
Downloads
For scripts, visit www.github.com/robugtix/t8x
As featured in
***Current estimated lead time is 2 to 4 weeks due to COVID-19***

Availability
Temporarily Out of Stock
Shipping Cost:
$100.00 (Fixed Shipping Cost)
Reviews
Hide Reviews
Waited a while but it was worth it
I like the robot a lot, it moves like a real spider :-P I just would like to make it walk faster, then it would scare everyone :-D
the best robot in the world
Not a robot for me, it looks real,,!!!!!!!,,,,,,,i hopein a future creature
In just one word...
AWESOME!!!
Worth the wait!
Excellent robot does everything I wanted it to do, so precise and just a great robot. The customer service all the way along has been excellent and was very easy to add a couple extra parts. Looking forward to the next robot!
Excellent Design
Most excellent design of the hexapod, keep up your good work, awaiting your next design.
Amazing bot finally becomes reality
The waiting was long, but finally I received my T8X today. Could not wait and directly opened the box to have a look. What an amazing bot! Got it running in 5 minutes: The WIFI interface / browser user panel setup is done in 1 minute and there it was: The spider worked. The movements are extremely realistic. I can't wait to scare the hell out of my mom her dog ;-) This bot is going to give lots of fun and lots of impressions to other people and customers. That's certain. Great job, amazing achievements. Thanks to the team@ Robugtix !
amazing little robot!
It was a long wait, but it was well worth it in the end! This thing is so fun! The life-like movements and sleek looks of this little guy are wonderful. The extra space in the main body for customizations, like an on board camera, is a nice bonus too! I can't wait to see what future products Robugtix will develop!
A dream come true
To see a spider robot with a life like movement was a dream for me and many kids long time ago . Now after a worthy waiting the dream come true As the T8X arrived home . This is an incredible crafted robot with an amazing life like robotic movement program . Very well packaged and supported by a professional company with a top customer service From the preorder process to the final product information , updates and shipping T8X really exceeds all my expectations . Well done robugtix , and please continue amazing us with your creations